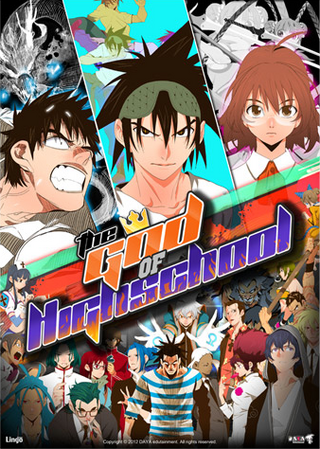 Story
It all began as a fighting tournament to seek out for the best fighter among all high school students in Korea. Mori Jin, a Taekwondo specialist and a high school student, soon learns that there is something much greater beneath the stage of the tournament.
The story starts with an island half-disappearing from the face of the earth, and then goes on with a tournament whose winner would get anything he desires. The God of High School is an ongoing webtoon/manhwa created by Park Yong-Je. It is also easily one of the most awesome webtoon/manhwa series out there, it is an enjoyable and good read.
Power Of the Verse
The verse is quite strong. As previously seen as a formidable martial arts based series, the verse got a massive boost after the introduction of angels and other realms. The main character jumped from mountain level to large planet level in mere chapters.
The Mid-tiers of the verse range anywhere from at least city+ to country+ to much higher than continent+, while the top tiers are at least large planet level and god tiers at least small star+.
As for speed, the verse varies from supersonic to massively hypersonic+ to FTL+ to much higher massively faster than light, supersonic being the low-tier, massively hypersonic+ being the mid-tier, FTL+ being the top tier and at least FTL+ being the god-tier
Even in terms of hax, the verse is filled with good amount of hax consisting of physics and probability manipulation, gravity manipulation, electromagnetic manipulation, attacks which ignore durability (strong and weak force), telekinesis/telepathy being common within top to god tiers, power mimicry and many more.
The verse, battle wise, is even ahead to the likes of Toriko (Barring the last chapter power-up) and has potential to grow even more powerful.
Characters
Main Characters
Supporting Cast
The Six
Judges
Nox
Dante α (World Tournament arc)
Ryu
Big Man
Schneider
Fei-Long
Kim Sak-Gat
Na Han-Sung
Myung Moon-Dae
Lee Ma-Rin
Oh Sung-Jin
Gods
Other
Mihu
Dr. Doogie
Subject M
Han Dae-Ryeong
Byun Jae-Hee
Calc,Feats,etc
Calculation of feats related to Jin Mo-Ri
http://topstrongest.wikia.com/wiki/User_blog:Adam_of_darkness/Calculations_of_feats_related_to_Jin_Mo-Ri
Ad blocker interference detected!
Wikia is a free-to-use site that makes money from advertising. We have a modified experience for viewers using ad blockers

Wikia is not accessible if you've made further modifications. Remove the custom ad blocker rule(s) and the page will load as expected.