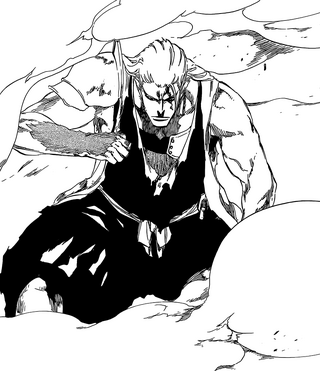 Origins: Bleach
Classification: Werewolf, Shinigami, Gotei 13 captain (7th division)
Threat level: Dragon-
Physical strength: Town, town+ with bankai. Likely city in his humanized form and city+ with Kokujō Tengen Myō'ō: Dangai Jōe
Destructive capacity: Town+, likely city in his humanized form
Durability: Town, town+ with bankai. Likely city in his humanized form and city+ with Kokujō Tengen Myō'ō: Dangai Jōe (immortality makes him harder to keep down in this form)
Speed: Hypersonic+, at least high hypersonic+ in his humanized form
Intelligence: High. An experienced and perceptive fighter, noticed Bambietta's reishi bombs were more than met the eye. A capable leader.
Stamina: Very high. Stood back up to fight against Aizen despite Tosen having crushed his torso previously.
Standard equipment: His Zanpakuto (Tenken), sometimes wears a helmet as well
Ad blocker interference detected!
Wikia is a free-to-use site that makes money from advertising. We have a modified experience for viewers using ad blockers

Wikia is not accessible if you've made further modifications. Remove the custom ad blocker rule(s) and the page will load as expected.