THE GREAT PAPYRUS
Likes to say NYEH NYEH NYEH NYEH a lot
- in-game description of Papyrus
[ARTICLE CONTAINS SPOILERS OF UNDERTALE. READ AT YOUR OWN RISK]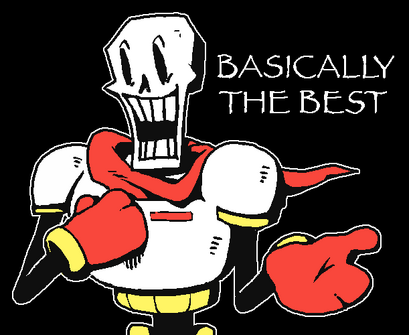 Origins: Undertale
Alias/Aka: Unparelled Spaghettatore
Classification: Trainee in the Royal Guard, Skeleton
Threat level: Wolf+, possibly Dragon-, OMNIPOTENTE+ WITH SPAGHETTI
Age: Presumably between 15 and 24 (From his Undernet account, CoolSkeleton95, we can suppose Papyrus was born in 1995, the game takes place in 201X)
Gender: Male
Powers and abilities: Super-Human strength, Speed, Stamina, Soul Manipulation ,
Physical strength: At least Wall+, possibly City by powerscaling ( Scales with Tsunderplane having her same attack value, Undyne claims he is "freaking tough" and the game supports this by having his stats above most of the other bosses besides Asgore and Toriel)
Destructive capacity: Casual Wall+, possibly City by scaling with Tsunderplane's aerial strikes
Durability: Casual Wall+, possibly city+ level, Determination makes her hand to kill due to her not giving up her attempts to kill you | Planet+ or far higher (can resonate with every heart in the world)
Speed: Superhuman, possibly supersonic+ by scaling with Undyne
Intelligence: Kind of dumb, self centered and quite silly. Claims crosswords are much branier compared to jumbles (and it's shown he does both from monster kids magazines). Can't distinguish a human from a rock... when the human is next to the rock. Undyne considers him too naivé and soft to be a member of the royal guard, further pointed out because he can't bring himself to kill you so he captures you three times and eventually realizes he can't bring himself to harm you any further, becoming your friend.
Stamina: Above Average, although the main character manages to wear him down, Papyrus thinks it's because, deep down, the main character has something like a skeleton inside him. Impressed Undyne with his determination by standing before his door from midnight to morning.
Standard equipment: A lot of bones, including his special attack
Notable techniques:
Blue Attack ( Papyrus turns you blue, which gives the element of gravity to the battle, and along with moving around to dodge attacks, you also have to jump)
Papyrus' "SPECIAL ATTACK"
CoolSkeleton95 posted a picture.
*ARE WE POSTING HOT "PICS"???
*HERE IS ME AND MY COOL FRIEND
Ad blocker interference detected!
Wikia is a free-to-use site that makes money from advertising. We have a modified experience for viewers using ad blockers

Wikia is not accessible if you've made further modifications. Remove the custom ad blocker rule(s) and the page will load as expected.