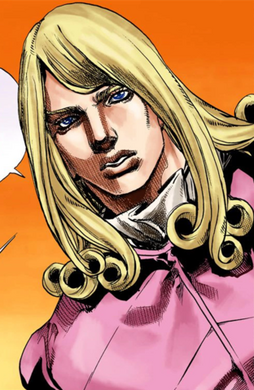 Origins: JoJo's Bizarre Adventure (Part 7: Steel Ball Run) 
Alias: Funny Valentine, Mr. President 
Classification: Human, Stand User
Threat level: Demon+
Wolf Level stats but Love Train and D4C are extremely hax and negate conventional durability
Age: 48
Gender: Male
Powers and abilities: Dimension hopping, Paradoxing, Attack redirection
Physical Strength: D4C should be around City Block+ with individual punches/slashes
Destructive Capacity: D4C's ability ignores conventional durability however with individual punches city block+
Durability: Peak human+ (Love Train takes all misfortune and redirects it elsewhere giving Funny a sort of Pseudo immortality also was shot several times and continued to fight for a bit.) 
Speed: FTL+ for D4C, peak Human for Funny Valentine
Intelligence: Very high. Funny is an excellent battle tactician and a good manipulator.
Stamina: High.
Standard equipment: His fathers handkerchief
Noteworthy techniques and abilities
Aside from being immune to attacks while inside of LT Love train can also make insignificant wounds fatal for instance a scratch on the arm could be a scratch on the heart. 
Ad blocker interference detected!
Wikia is a free-to-use site that makes money from advertising. We have a modified experience for viewers using ad blockers

Wikia is not accessible if you've made further modifications. Remove the custom ad blocker rule(s) and the page will load as expected.